Two Cozy Living Room Ideas
By Macy Evonosky
Interior stylist + photographer, wanderingmyhome
When I think about creating a cozy space the first thing that comes to mind is texture. I love layering a variety of textures because it adds depth and a relaxed feel to the environment. For my first mood board, I wanted to create a calm and inviting space. I wanted the space to feel cohesive with not too much of one color or texture.
What comes to mind when you think of a calm space?
For me, I tend to think of lighter colored BIG furniture items. When looking in a room where those BIG pieces of furniture that catch your eye first, are light in color, I instantly feel a sense of calm. For this space, the couch was going to be the eye catcher, so that's where I started.
Design 1: Calm + Collected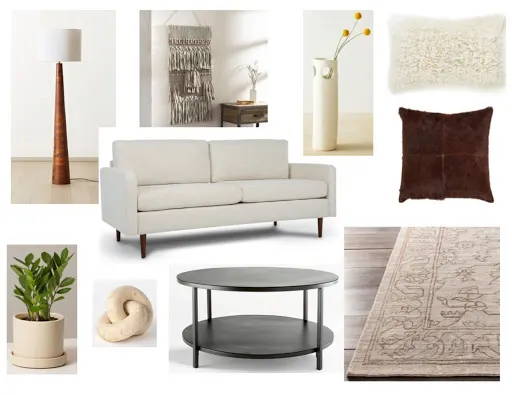 Picking out the couch color was easy! I went with the color Snow for the Bundle couch. I envisioned this design to be for a front den/sitting room, so white would work great in there!
After I finalized the couch and color, I then decided on the rug. Luckily, Resident Home's website had a wide selection to choose from. I wanted something with a pattern but not too crazy. The Theodora rug jumped out at me the most because the rug colors were muted and not distracting to the eye. I then worked with the browns in the rug to pick out the Valor and Dexter throw pillows. The off-setting textures worked well together and matched the color scheme I was going for! Lastly, from the Resident Home collection, I wanted to add one more decor item to add a bit more texture. I picked out the Hallie wall hanging, (which ideally would be hung behind the couch), to finish off the look! I also found some plants (you should always have plants in your space, they liven things up! Quite literally, haha!), decor, a lamp, and a coffee table from other sources and have everything linked below.
What do you think? Does this space resonate with you? If not, hopefully the next design will!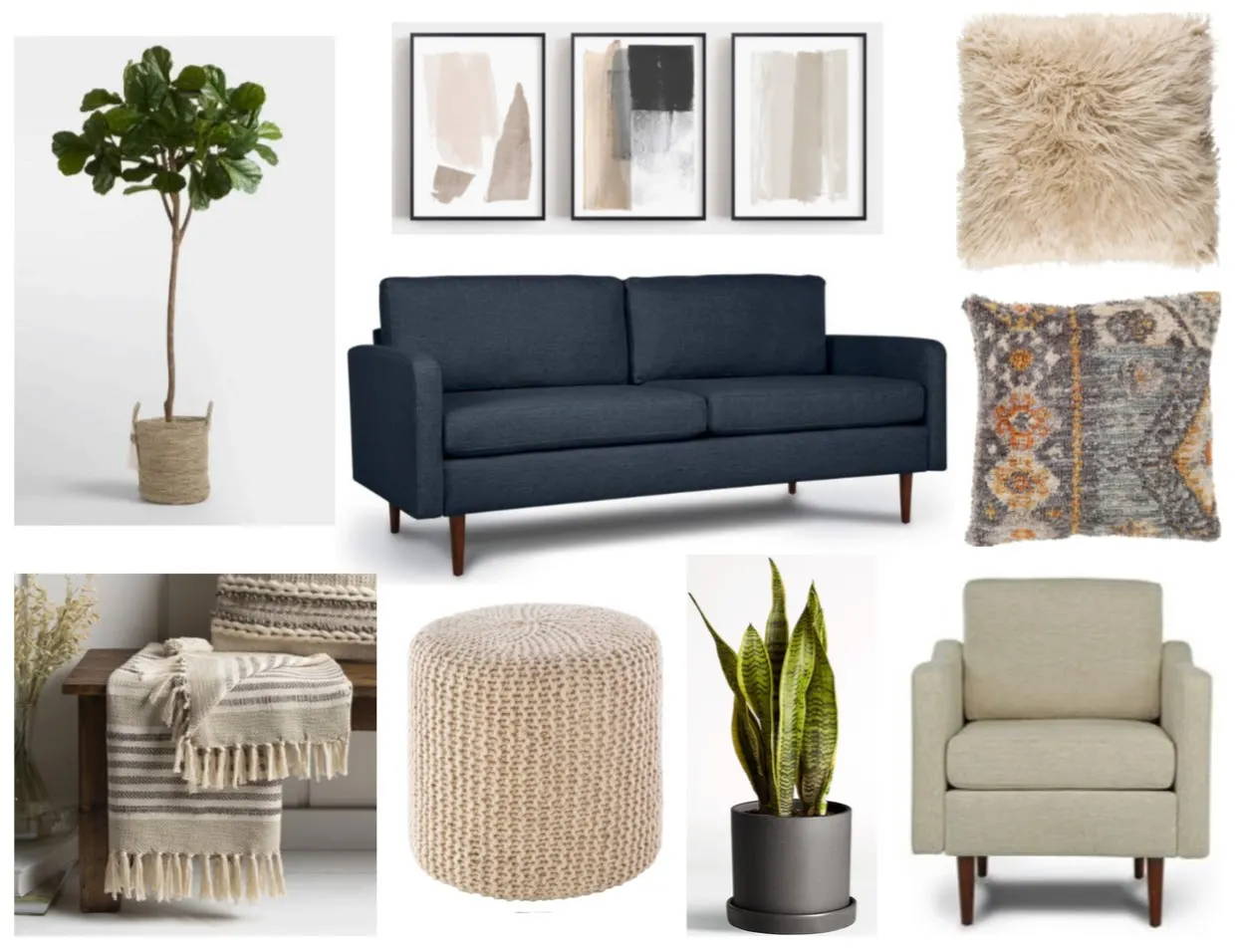 For this design, I wanted to focus less on the white and crisp theme and more on a darker hue/bohemian theme. As you can see, I chose the Indigo Bundle couch and combined it with the Sand-Beige Bundle chair. I liked the idea of the two largest pieces of furniture not matching. It feels too matchy-matchy when everything looks the same in a room. I then picked out the Beau throw blanket because the stripes were calling my name. I can't really explain it, I just liked it. I envisioned this throw being literally "thrown" off to one side of the chair.
As for the pillows, this time I wanted some pattern. I really liked the look of the Yuri throw pillow because it reminded me of a kilim rug. I am always drawn to pillows that look like a turkish rug. Anyway, since the Yuri pillow had a pattern and color to it, I wanted the second pillow to be muted but cozy, so I went with the Kahraa fur pillow! I imagine the Kahraa pillow in the back and the Yuri pillow in front of it, when they are layered on the couch.
To add the final punch of texture, I picked out the Prado pouf. I liked the height and texture of it and would hope it would sit next to the couch like a side table with some books on top. Once again, I added some plants because a space feels empty to me without them, and some framed neutral art (all linked below).
I hope you enjoyed my thought process as I walked you through these two cozy spaces! Hopefully it inspires you to create a cozy space where you reside! Happy decorating!

-Macy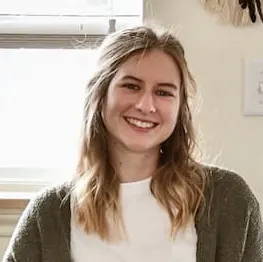 Interior stylist + photographer, wanderingmyhome

Since college, Macy's creative outlet has always been interior styling and photography. Her goal is to create a warm and welcoming home environment that is also functional. She loves combining earthy tones and textures to really make her space feel like home. When she isn't styling her home, she spends her time outdoors, which inevitably is where she draws most of her home inspiration.
Free Delivery over £50
free-returns
no contact
Free Delivery over £50
free-returns
no contact